02 Aug

What are the reasons for using glass kitchen splashbacks?

The kitchen is commonly said to be the heart of the home. It's where the family bonds, dinner is made, ideas, feelings and memories are shared…So, choosing your kitchen layout or planning to remodel your existing kitchen can prove to be quite a challenge – choice of wall colours, tiles, furniture. Don't forget your glass kitchen splashback!
What are kitchen splashbacks?
Creatively designed to enhance or complement home décor, splashbacks are panels of materials in kitchens and bathrooms to protect walls and surfaces from splashes. Kitchen splashbacks are often positioned behind the hob as a shield to protect the walls from heat damage, moisture and cooking debris.
Why are glass kitchen splashbacks so popular?
Glass splashbacks are heat resistant
On top of being visually appealing, glass splashbacks are manufactured in durable heat-resistant materials where the glass is heated and swiftly cooled by air blast for a few seconds allowing it to bear suddenly change in temperature. It is good to note that toughened glass can bear extreme temperatures, up to 400°C.
Glass splashbacks are very easy to clean
Quite logically, kitchen suffers from spillage, cooking debris, moisture and stains all day long and every day. Opting for glass kitchen splashbacks is the perfect solution! Glass only needs to be wiped with a piece of cloth after a few drops of detergents. No particular maintenance is required; no joint grouting and surface sealing is needed, but abrasive materials should not be used.
Glass splashbacks are durable
Every one seeks value for money when making an investment. Some glass kitchen splashbacks are built in toughened glass, making them extremely robust and shock-resistant. Nonetheless, they can still crack if heavily knocked by a pan or other kitchen utensil.
Glass splashbacks are versatile in designs, sizes and colours
Glass kitchen splashbacks are available in a wide array of sizes, designs and colours. Moreover, it is now possible to apply any picture or pattern using vinyl to your splashbacks, as long as it is not the panel near the gas hob. Low-iron glass splashbacks feature a crystal-like appearance for optimum clarity thanks to a low iron oxide content as compared to ordinary glass with iron content which gives the glass a slight green tinge.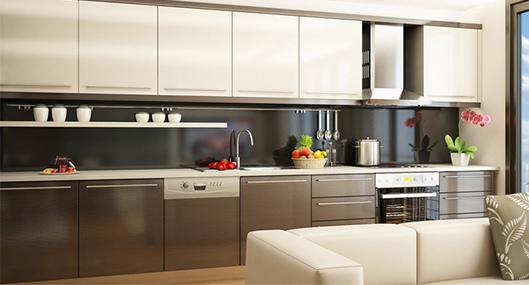 Glass splashbacks are more hygienic
Following long-term regular rigorous use, surfaces such as granite or wood tend to develop cracks and crevices which home bacteria, mold or mites. Those can pose a serious threat to the health and hygiene of your family. Luckily, glass splashbacks do not develop cracks and cavities, and do not have such hygiene issues.
Glass splashbacks help to enhance your home's value
Glass splashbacks are visually appealing, easily customizable and made of safe materials to provide a classy modern look to your kitchen. Moreover, they help to increase the value of your property in case of resale.
How are glass splashbacks installed?
Once your decision to go for a glass splashback is made, a template is designed to make sure that the glass perfectly fits in. After being processed and painted, the glass splashback is affixed by means of a special adhesive sealant. A smooth surface will ensure optimum adherence of the glass and clear silicon is used around the border of glass wherever glass meets glass or another surface such as a cabinet, countertop etc.
Discover our wide range of best-in-class premium glass kitchen splashbacks in Mauritius