27 Jul

What are the reasons for using glass writing boards?

Over time, whiteboards have replaced classic blackboards or chalkboards and today, glass writing boards are becoming more and more popular at home, office, schools and almost everywhere. Wall-mounted or mobile, glass writing boards stand as a compact, ready-to-use and hassle-free to maintain solution that incorporate an ultra-slim, extremely durable lacquered glass board allowing users to write down information using any type of markers. Writings or drawings on glass marker boards are easy to wipe and clean. Furthermore, they are made out of high-quality material available and are durable, functional and stylish completely transforming your home or work space with a contemporary classy touch.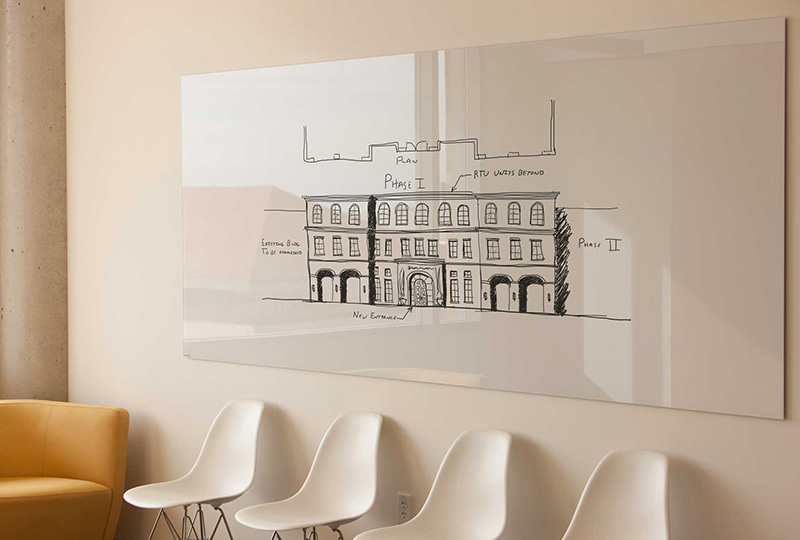 So, what are the key characteristics  and advantages of glass marker boards?
Glass writing boards are clean — They are much easier to clean than traditional blackboards as glass boards' surface is nonporous. They do retain the markings made on them, eliminating risks of stains or ghost marks and making them much easier to wipe clean.
Glass writing boards are durable — As they are manufactured in tempered glass, glass marker boards feature high durability, meaning that they do not break easily and even in case of breakage, the glass is shattered into small and harmless unsharpened glass fragments. Moreover, the frames used for glass writing boards are tougher than traditional boards, which somehow guarantees the durability and lifespan of your writing board. In fact, they often last much longer than typical whiteboards or classic chalkboards; their sleek design and modern look are timeless, so these boards won't look outdated anytime soon.
Glass writing boards are visually appealing — Whilst blackboards most of the time feature an untidy appearance after being wiped, so are whiteboards with marker stains or streaks, glass writing boards have a much neater aspect after being erased. They seamlessly provide aesthetic, modern, sleek and functional value to the rooms in which they are fitted. Glass boards are available in custom sizes and colours for a stylish home décor finish.
Glass writing boards are fully versatile — Available in a wide array of colours, sizes, and mounting options, glass marker boards are really versatile in terms of settings and applications. For instance, glass boards are ideal for complementing any office, conference room or boardroom in private clinics, medical facilities, factories, restaurants, schools, colleges, universities, government facilities and residential homes, primarily to visually communicate information.
Glass writing boards are customisable — One of the most sought-after features of glass boards is the fact that they offer a wide range of customization options to meet everyone's tastes and requirements. In addition to customizable colours and sizes, there boards can also be magnetized to stick magnetized markers and erasers to them. They can be frameless, fitted with freestanding frames, or wall-mounted. Following customers' requests, it is possible to incorporate graphics or corporate logos for a more personalized look.
Glass writing boards help to boost productivity — Within contemporary work environment, by providing workers with a place to share thoughts, insights and ideas, glass boards help foster creativity and enhance collaboration among workers. These boards are also an ideal platform to visually share assignments and planning projects.
Looking to upgrade your home, office or commercial outlet with glass writing boards, visit Birmingham Glass Solutions Ltd today for more information.